Community Health Education
社區健康教育
August 13, 2015: Treating Hypertension with Traditional Chinese Medicine
Date:
August 13, 2015
Time:
5pm - 6:30 pm
Location:
Herbst Hall, UCSF Mount Zion Campus 1600 Divisadero (between Post and Sutter St.) San Francisco
Fee:
Free
Speaker:
Caiping Tang
The Asian Health Institute, with the collaboration of the American Association of Chinese Medicine & Acupuncture (AACMA), presents a free 3-part bilingual (English and Cantonese or Mandarin) series in July, August, and September. All are welcome.
High blood pressure is probably one of the most common chronic diseases where patients would combine both conventional western medicine with traditional Chinese medicine to control their blood pressures. Are there potentials for adverse drug-drug interactions - a question that health practitioners often wonder about? And how does the California Acupuncture Board helps to provide oversight of patient safety?
Second in the TCM Series, Dr. Caiping Tang (唐彩平) will share her insights and expertise regarding the use of traditional Chinese medicine in this bilingual (English/Cantonese) lecture to be held on August 13, 2015, 5-6:30 pm at the Herbst Hall, 1600 Divisadero St., SF. For more information, please click here. To register for class, please call 415-885-3678 or click here.
Dr. Tang is a supervisor at the the Acupuncture Clinic of the State of California Acupuncture Board and also an instructor and clinic supervisor at the Five Branches Institute College and Clinic of Traditional Chinese Medicine, San Jose.
For more information please click
here
.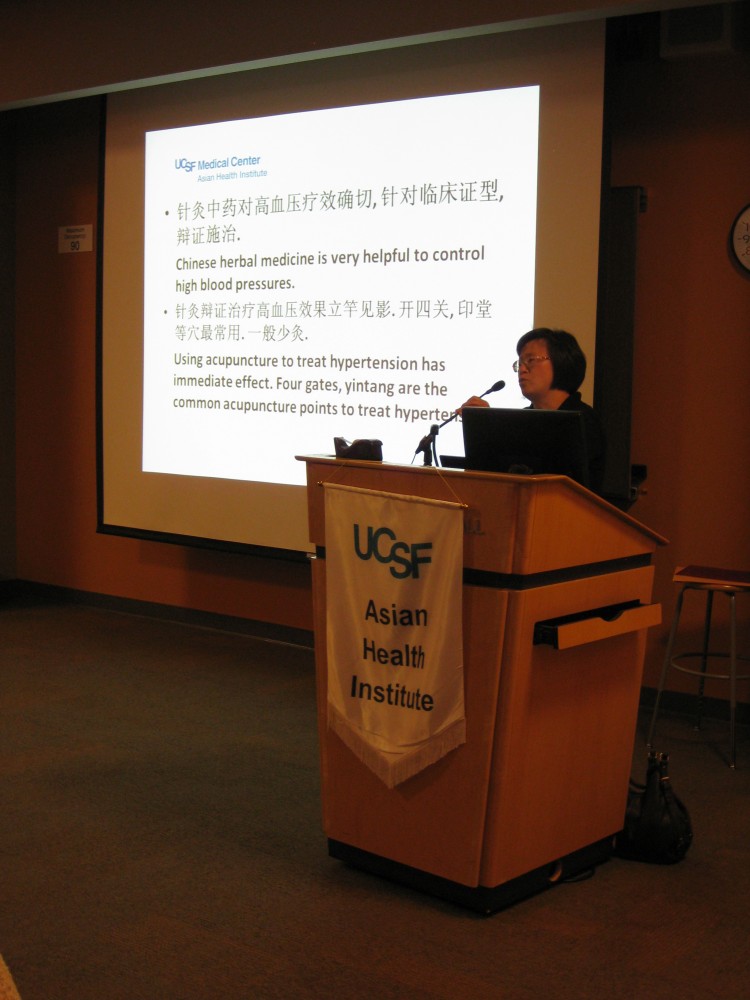 二〇一五年八月十三日:中醫如何治療高血壓
Date:
August 13, 2015
Time:
5pm - 6:30 pm
Location:
Herbst Hall, UCSF Mount Zion Campus 1600 Divisadero (between Post and Sutter St.) San Francisco
Fee:
Free
Speaker:
Johanna Chu Yen
為了更好地向主流醫學和主流社會介紹中醫,加卅大學舊金山分校亞裔健康研究院誠邀美國中醫公會(AACMA)理事在未來三個月(七,八,九月)推薦中醫講員做健康免費雙語(中英語)講 座,歡迎所有 UCSF 的醫務人員、教職員工、學生、病人及社區大眾參加。
唐彩平醫師、週四、2015年8月13日會發言關於中醫如何治療高血壓的題目。這是這個節目的第二部分。
想要查詢更多的信息請按
在這兒
。